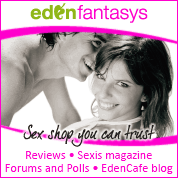 Everyone needs to add a bit of spice in their love life every once in a while! Personally, my I love to surprise my husband with new toys and sexy lingerie :) We've been married for 15 years. Plus, we're also dealing with fertility treatments. That means sometimes we "have to sex" at a certain or on a certain day. Both of these can lead to boring, dull, and just crappy sex.
Thanks to Edenfantasys.com I can get the stuff that I know we'll both enjoy for free! They have one of the best reward programs I've found on any site online! All you have to do is interact with their site :) You can earn points for liking products, leaving comments, adding things to your wish list and much, much more! You can easily get a couple of dollars worth in points each day. All of these points can be redeemed for gift cards for their site at anytime, for any amount! How great is that?
Everything in the box below I got for free from Edenfantasys.com in the past 4 months! That's over $100 worth of stuff :) The lingerie in my most recent order. I'm hoping to surprise my husband with it! I can't wait for it to get here :) He loves the toys that we've gotten from them in the past, and I'm sure he'll like the new ones!
Edenfantasys.com
is a great place for anyone that is looking to add a bit of spice into their life! Use the code: V1R when you order to get 15% off.